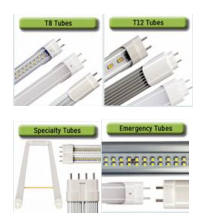 TUBES
Gulf Coast LED Lighting's Superior LED Tube Lights are our Specialty. They are designed to easily replace toxic, higher wattage fluorescent tube lights commonly used in offices, warehouses, signage, tunnels and schools. Our Superior patented design generates the longest lamp-life on the market and our high-quality components are so energy efficient they have earned the Design Lighting Consortium certification which is the commercial version of EPA Energy Star Rating. GUARANTEED FOR 7 FULL YEARS, lab tests show they'll operate maintenance-free for 100,000 hours.
That's over 11 years if they're left on 24 hours a day, 7 days a week! Our latest model LED tube has such a high lumen output, we can de-lamp a 4 tube fixture with only 2 tubes and still maintain the same amount of light on the workspace. And, since they operate at an ambient temperature of around 78° F, they do not turn brown or contribute to the building's summer cooling load. These 3rd generation Superior LED tubes are EASILY INSTALLED INTO EXISTING FIXTURES.
The old ballasts usually do not need to be removed, so you save expensive disposal costs. Our small external driver is attached to the fixture and the LED tubes within the fixture are powered in series directly to the driver with included cables or existing wiring depending on brand. The drivers are also guaranteed for 5 years & lab tests indicate they will last 147,000 hours or 16 years of continuous use! Switching to our Superior LED tubes yields an average Return on Investment of 50-80%.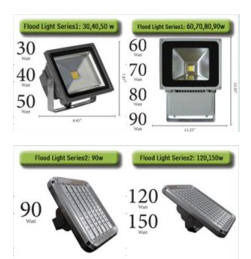 FLOOD LIGHTS
Gulf Coast LED Lighting's Outdoor Flood Lights are designed to save over 70% of the energy consumed by a typical metal halide flood light. Available in warm and cool colors, our LED floods are easily installed, are maintenance free, have a life expectancy of over 50,000 hours and are guaranteed for 5 years while providing very high luminance for minimal power consumption.

Wall-Packs
Gulf Coast LED Lighting using The ESL Vision Wall Pack Series provides the traditional style of HID fixtures with the energy saving benefits of LED. Switching your businesses' outdoor lighting to ESL Vision's Wall Packs will not only cut your energy expenses by up to 75%, it'll also save you on those costly facility maintenance visits.
Features: Easy Mounting, Mean Well Driver, 5 Year Warranty
HIGH BAYS AND STREET LIGHTS
HIGH BAYS
Gulf Coast LED Lighting has a variety of High Bay solutions, from T12 fluorescent tubes, T8 tubes, replacement bulbs equal to as much as 1,000 watts down to 150 watts and complete fixture replacements. We can tailor a solution to fit any need.
STREET LIGHTS
Gulf Coast LED Lighting's Superior LED Street Lights combine super high luminance with very low power consumption. Available in a variety of lumen outputs and design configurations, our LEDs are rapidly replacing outdated high pressure sodium, metal halide and high intensity discharge lights. They come in instantly, are extremely durable, require no maintenance, have a life expectancy of over 50,000 hours and are guaranteed for 5 years. The fixtures can be configured with proximity motion sensing to allow an even greater savings. They replace metal halide lamps from 150 watts to 1,000 watts with 30 to 220 watts of solid state LED lighting, usually providing up to 85% in energy savings.
GARAGE LIGHTS AND BILLBOARD SPOT LIGHTS
GARAGE LIGHTS
Gulf Coast LED Lighting has your solution for Garage lighting with a new 360 degree fixture, replacement bulbs or LED tubes. All of these offer the efficiency of solid state LED lighting, low maintenance and choices in kelvin colors.
BILLBOARD SPOT LIGHTS
Gulf Coast LED lighting has a patent pending "Bullet" light that will light up an entire 10 x 22 foot billboard from corner to corner top to bottom with the same intensity throughout and is only 75 or 120 Watts. This replaces a typical 250 watt HID light used today. A group of three will illuminate even the largest billboard used today. It is also uniquely water proof and has many other applications such as accent lighting.